What Are The Characteristics Of The Pipeline Metal Detector?
March 19,2021
People in the non-fluid or semi-fluid industry may be unfamiliar with the term pipeline metal detector. No matter what industry you are a retailer, as long as you are looking for a metal detector, you can read this article, also you will get a nice pipeline metal detector for sauce.
What Is a Pipeline Metal Detector? What Is The Function?
Pipeline metal detector, also known as pump pressure metal detector, is specially designed for metal foreign bodies in fluid or semi-fluid products (fluids such as soy sauce, milk, vinegar, rice wine, etc., semi-fluid products such as sauces, juices, sauces, etc.)
The detection and separation of the conveyor belt overcomes the defects of the conveyor-type metal detector, which can effectively protect the processing machinery behind, reduce downtime, reduce maintenance costs, and improve production efficiency.
Pipeline Metal Detector
The working principle of the pipeline metal detector is the same as that of other metal detectors. The electromagnetic balanced multi-coil design makes the magnetic field uniform and stable. At the same time, the high-speed digital signal processor and the corresponding software system are used to greatly enhance the anti-interference ability. The detection accuracy is high and the stability is also very good. The structure design of the metal detector is compact, which makes good use of the integration of the space structure and the narrow construction site. Use clamps or flanges to connect the front and back production lines, which can be quickly installed in any existing piping system of the production enterprise. The internal IEC 60794-2 passageway material adopts environmentally friendly food-grade materials, and has the characteristics of temperature resistance, compression resistance, aging resistance, and long life.
The pipeline metal detector has a built-in quick removal mechanism, coupled with an efficient and accurate automatic removal control system, which can reduce material loss. It is made of stainless steel (SUS304) material, simple structure design, sanitary, easy to clean, corrosion resistant, and meets HACCP, FDA and other requirements. Lightweight body, equipped with casters and brakes, it is very convenient to move, and the fixing method can be by foot brake or supporting feet.
At present, pipeline metal detector from Shanan has been widely used in food raw materials (that is, those liquid and paste materials that are transmitted through pipelines, such as meat sauce, ketchup, hot chocolate, pulp, soup, fillings, colloids, etc.) ) Production companies are used all over the country.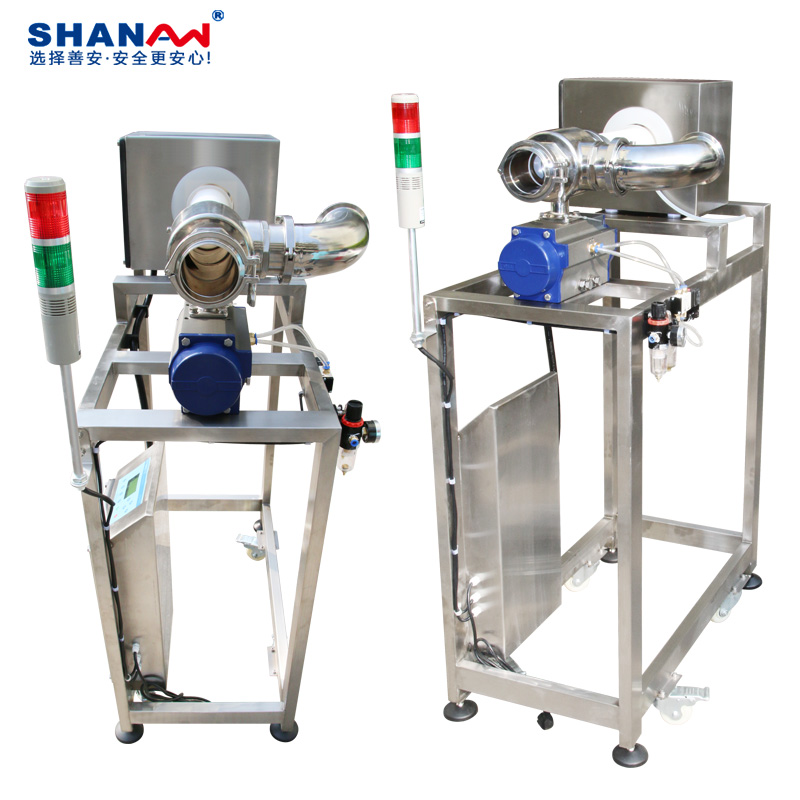 The pipe systems of our pipe metal detector are custom-made produced for the inline inspection of pumped fluids and also pastes that are carried through a pipe.
Click here, you can get more informations.
📞+8618576352278; +8613215377368